Scottish ice cream brand Porrelli scoops fresh Asda listing
Date: Wednesday, June 5, 2019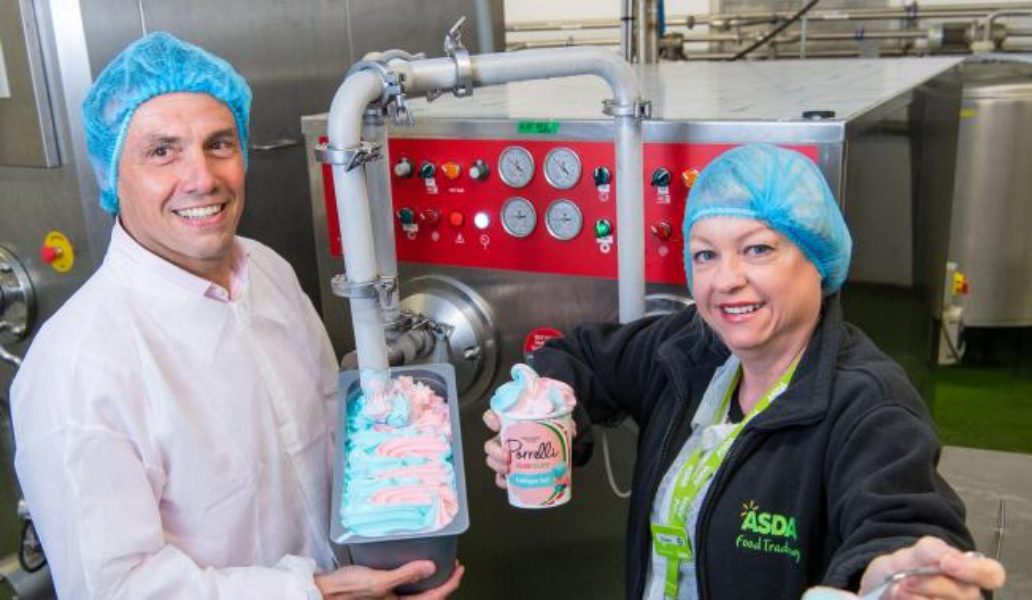 ROKK customer Porelli is celebrating after scooping an exclusive deal with Asda to stock two new ice cream flavours.
Produced on the ROKK RFE 1200 Twin Barrel Continuous Freezer, Porrelli's new Bubblegum Swirl and Hazelnut Chocolate flavours will be available in 51 stores in Scotland.

This new deal is the Paisley based ice-cream factory's first supermarket listing for the flavours, following a recent investment of £35,000 in state-of-the-art technology allowing new innovative flavours to be invented.

The new flavours are available in a 500ml size, retailing at £2.50 a tub and are in addition to the Vanilla and Scottish Tablet dairy ice cream tubs which are already available in Asda stores.

The family-run company have been working with Asda for more than 20 years and previously participated in Asda's Supplier Development Academy, helping to boost the business from direct delivery to local Asda stores in Glasgow to a national Scottish distribution through depot.


Enzo Durante, managing director at Porrelli said:
We are thrilled to secure our first national supermarket listing for the Bubblegum Swirl and Hazelnut Chocolate flavours.

Over the past few years we've seen real innovation of ice cream flavours mimicking confectionary, thanks to a revival of the modern-day ice cream parlour.

Thanks to this consumer demand, we are always developing new flavour combinations and sauces, so it's good to see this popularity now finding its way into retail pots in the supermarkets.
 Regional buying manager at Asda, Heather Turnbull, said:
Porrelli Ice Cream has been available at Asda for 20 years now and has been a huge success in stores across the country, so we know our customers are going to enjoy the two new flavours that have launched.

Over the years we have stocked a number of Porrelli Ice Cream products allowing customers to enjoy luxury ice cream packed full of home-grown Scottish taste, talent upporting local Scottish suppliers is an integral part of what we strive to do at Asda and we're delighted to continue to support Porrelli Ice Cream range across our stores.
Porrelli has been making ice cream for more than 90 years for the catering and retail industry and stocks more than 100 flavours.

The company is well-known for its unusual flavours including Tablet, Iron Brew, Turkish Delight and Italian Mascarpone & Amarena Cherry.
Story courtesy of Scottish National
---