Suomisen Maito Oy (Suominen's Milk Little Ice Cream Company)
Horst Neumann is a founding partner and CEO of Suomisen Maito Oy, based in the town of Aura, West Finland, just a few miles from the organic dairy farm which supplies all their milk.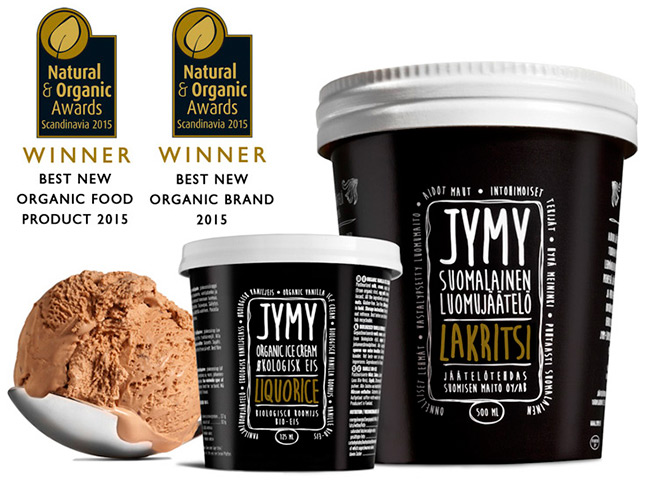 Whilst the company's export sales of delicious premium organic ice cream are growing strongly, most customers can still be found in Finland, where locals enjoy ice cream all year around and consume a staggering 13l per head per annum – ranking fourth in the world behind the US, Australia and New Zealand.
Here Horst explains just what makes their ice cream so irresistible, and how ROKK help in the process.
Meet the customer:
Name and position: Horst Neumann, founding partner and CEO, 3 years.
Company details: Suomisen Maito Oy, Aura, Finland.
Products: Using nothing but organic products, we make super premium ice creams with all fresh ingredients local, organic and chosen for their quality and taste. Our ice creams are branded as JYMY Ice Cream and combine delicious local berries and milk with international flavours and spices.
Favourite ice cream flavour: This changes depending on my mood – our awarded liquorice ice cream is glorious, but I'm currently a little hooked on our new green tea flavour.
What do you do when not making ice cream: Like most Finns, I enjoy being in my summer cottage surrounded by nature.
Meet the machine:
What machinery do you use: ROKK RFE600 freezer, ROKK RR3800 filler, ROKK RIF1500 ingredients feeder
How would you rate their performance: We are very happy with our machines, they are very sturdy and give us very few problems.
How easy are they to operate: We have highly skilled engineers in our production team, so they find the machines extremely easy to operate.
What's the best feature about them:
The filler is small, compact and easy to move around, so ideal for a start-up company
The freezer is easy to operate, solid, and it does the job well
Has it ever let you down: One compressor broke, but we received the replacement from Dairy Bits in just two days.
Is there anything you would change about it: We are filling small cups for a growing number of airline customers, which puts the filler on the limit size-wise, so more adjustability would be useful.
What do you prefer about your ROKK machine to the previous machines you have used: These are our first machines. We visited lots of other manufacturers too, but chose ROKK as we liked the fact that the company is small. We felt they suited us better, that we can get to know the people well as opposed to with a huge company where you always seem to talk to a different person.
Your views on ROKK and Machinery World:
What's the best thing about the team at ROKK and Machinery World: They are very friendly. The service and parts operations run very smoothly and is working very nicely for us. Sometimes for a small company like ours we have to react very quickly and delivery time can occasionally be a little slow – if they could make this better, they would stand out even more.
Have you ever used the engineering department: Not that I recall, as we have our own team of skilled engineers within the business who service our machines.
Have you used the spare parts arm of Machinery World, Dairy Bits and could they supply what you needed: Yes, they were very efficient and helpful, delivery was quick and we were very happy with their service.