Mullins Ice Cream
Stephen Margey is the Operations Manager at Mullins in Kilrea, Northern Ireland, and uses the ROKK RR2000 filler.
Here he explains how the machine has helped to produce an incredible 26 million units of their delicious impulse products since they bought it in 2009.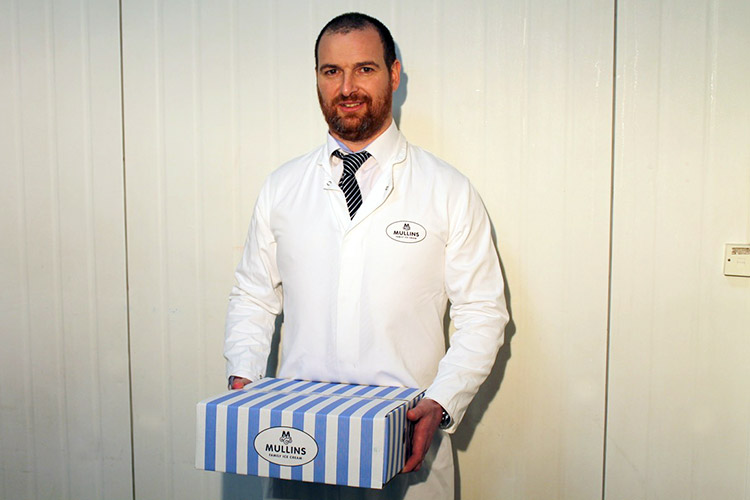 Stephen Margey, Operations Manager, Mullins
Meet the customer:
Name and position: Stephen Margey, Operations Manager, 26 years.
Company details: Mullins Ice Cream, Kilrea, Northern Ireland.
Products: Originally a small family business founded in 1950, Mullins still specialises in supplying the people of both Northern Ireland and the Republic with delicious scoop ice cream made to the original recipes. There are now 40 different flavours and a whole range of new products, including 0% fat Greek yogurt, goat's milk ice cream and products made specifically for diabetics.
Favourite ice cream flavour: My favourites are still chocolate and vanilla, served together, although I also love our salted caramel ice cream and, of course, Northern Ireland's favourite flavour, honeycomb, which we make from scratch on site..
What do you do when not making ice cream: I cycle, swim and play golf – all good hobbies when surrounded by delicious ice cream all day!
Meet the machine:
What machinery do you use: ROKK RR2000 twin filler.
How would you rate its performance: It's a really excellent machine. When we bought the ROKK RR2000 in 2009 it was a revelation for the business because it is so flexible. Our production runs often go for 5 consecutive days, giving us around 150,000 finished units. With small changes the machine has enabled us to produce 8 different skus.
How easy is it to operate: It's not bad at all. You do need some training of course, but we can make simple changes ourselves as needed.
What's the best feature about it: Most definitely the flexibility and reliability.
Has it ever let you down: Reliability is great – whilst there have been some minor repairs needed over the years it has never been out of service – 26 million units on!
Is there anything you would change about it: In an ideal world I suppose I would change how the lids are put on, as it can be difficult to set because the lids are inverted on entry.
What do you prefer about your ROKK machine to the previous machines you have used: We only had single filler machines before so this has enabled us to double our capacity.
Your views on ROKK and Machinery World:
What's the best thing about the team at ROKK and Machinery World: They are very personable which is important to us. They genuinely want to help when we ring, which is everything. They understand the issues, know the business, are quick to send parts over – and will jump on a plane if needed.
What makes the team different from others in the marketplace: They care more. They also have ice cream backgrounds, so understand customer needs. They are very open with providing information and give an honest opinion even if the equipment hasn't been supplied by them.
Have you ever used the engineering department: Yes, many times over the years.
Have you used the spare parts arm of Machinery World, Dairy Bit and could they supply what you needed: Yes, they were very good, delivery was quick and we have never had any issues with anything they have supplied for us.